Regular price
$2,591.50 AUD
Regular price
$2,699.00 AUD
Sale price
$2,591.50 AUD
Unit price
per
Sale
Sold out
 Haltech Elite 1500 + Premium Universal Wire-in Harness Kit
Part No. HT-150904
Outputs: Up to 4 injector and 4 ignition.
Suits: Universal 1-12 cylinder or 2 rotor applications.
Includes: Haltech Elite 1500 ECU with DBW and Race Functions. Premium Universal Wire-In Harness. Firewall grommet, moulded 6 power circuit Haltech fuse box and lid. 4 relays, 7 fuses and pins for the 2 spare power circuits. Waterproof USB cap, USB programming cable and USB Software Key.
Length: 2.5m
Availability: In Stock
Overview:
The Universal Wire-in Harness has a set of ECU connectors at one end and unterminated wires at the other. All the wires at the unterminated end are colour coded and clearly labelled. Connect your Haltech ECU to the terminated end and follow your wiring diagram for all the engine connections. Load your base map and you're ready to go!
ECU OVERVIEW
Supports 1 to 12 cylinder engines
2 rotor engines
Normally aspirated or forced induction
Load sensing by Throttle Position (TPS), Manifold Absolute Pressure (MAP) or Mass Air Flow (MAF)
Staged, sequential, semi sequential, batch or multipoint injection patterns
Distributor ignition systems, multi-coil systems, expand CDI range or Haltech Multiplex CDI systems
Connect to a wide range of display dashes and expansion devices via CAN.
4 x fuel injection outputs
4 x ignition outputs
12 x digital outputs
10 x analogue voltage inputs
4 x synchronised pulsed inputs
3 x dedicated inputs (knock, ignition switch & onboard MAP Sensor)
2 x dedicated engine position inputs with extensive trigger type support
Up to 45 channels of Input & Output (I/O) expansion (via CAN)
USB laptop communication (Windows)
ESP Calibration Software
Features: 
ECU FEATURES
Drive by Wire Throttle Control (DBW).
Low Impedance Injector control with programmable injector peak and hold currents and programmable peak time.
Flex fuel support (Direct sensor input). Tune your engine's boost, fuel and ignition by ethanol content.
Flexible tuning setup for Petrol (Gasoline), Methanol and Ethanol.
Closed Loop 02 Control. Dual bank control for precise tuning (with optional external CAN O2 Wideband Controller Kit).
Knock Control. Synchronised to engine position with high speed digital filtering for accurate detection.
Variable cam control - Independently control up to 4 camshafts.
Closed Loop Idle Speed Control with learning for consistent idle stability.
Long term learning (auto tune) on fuel, ignition, cam, boost and idle control maps (up to 4D).
On-board data logging. Up to 40 channels of logging at sample rates up to 5ms (200Hz) with 2MB of internal memory.
Laptop data logging.
Dual CAN Bus communication for Haltech dashes and expansion devices. Supports OEM CAN and OBDII. View live engine data and set/clear diagnostic trouble codes.
1 - 4 Injection stages with individual injector flow rates per injector.
Anti-Lag/Rotational idle for closed course racing, rally, circuit or drift. Build and maintain boost during closed throttle conditions.
Rolling Anti-Lag. Lock to your current or pre-set RPM or road speed for roll racing or pit lane limiting.
Launch Control. Control your engine's power delivery, RPM and boost for consistent performance at the start line.
Traction Control. Control your engine's power output via mappable front vs rear axle or individual wheel speed slip.
ADVANCED TUNING
Tuning table resolution up to 32 x 32 x 8
Limitless tuning flexibility. Tune your engine by a combination of 4D tuning tables combined with 3D per cylinder compensations and multiple user-definable corrections.
Per Cylinder Tuning Correction - 3D
Wideband O2 Control. Connect up to 9 channels via CAN expansion devices.
Thermocouples/EGT (Exhaust Gas Temperature). Connect up to 12 channels via external CAN expansion devices.
Advanced Engine Protection. Set multi-level limits for sensors and protect your engine against common causes of failure.
RACE FUNCTIONS
Nitrous control with advanced programming of up to 6 stages of wet or dry nitrous kits with on/off delays and banked control options. 3D fuel and ignition corrections for all stages.
Boost control. Intelligent 4D closed loop learning with flexible, user-definable axis and 14 fully user-definable corrections.
Sequential turbo control
CO2 boost control. Wastegate pressure and position, intake air bleed control (charge pipe wastegate) functionality for the hard-core racer.
Flat shifting. Optimise your shifting precision via a combination of inputs such as a clutch switch or strain gauge.
Shock Travel/Ride Height inputs allow dynamic tuning and data logging to assist in chassis development and power delivery.
Timer functions. Use the combination of the race timer and 5 additional programmable timers for time-based control of multiple engine parameters, power delivery and other user definable functions.
Trans brake function allows smooth and consistent control of start line staging
Share
View full details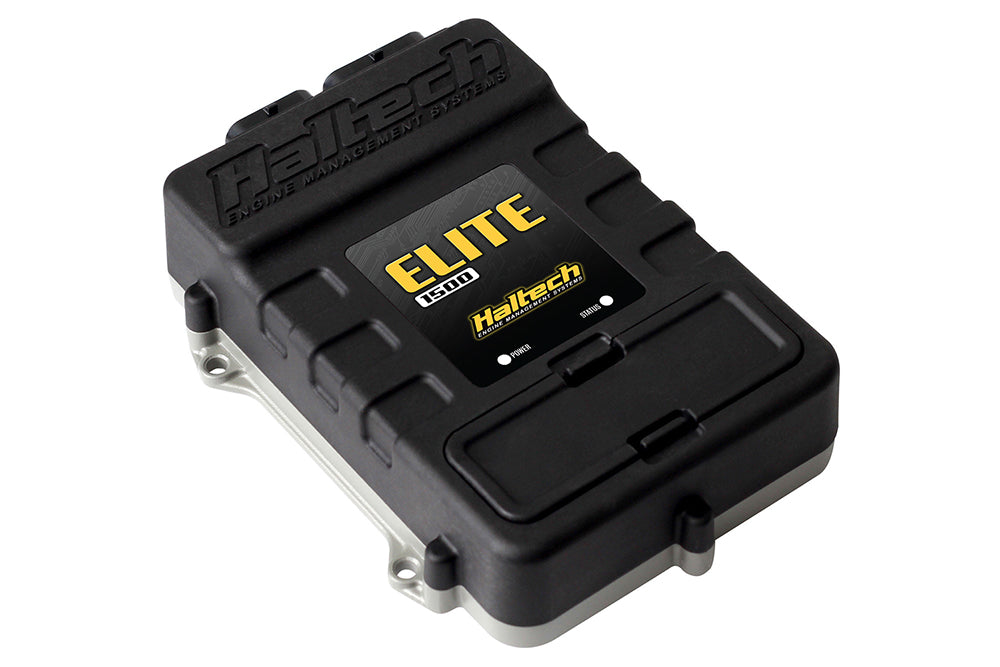 FREE FREIGHT FOR ORDERS OVER $500.00

AUTHORISED GENUINE PARTS DEALER

SAFE & SECURE CHECKOUT